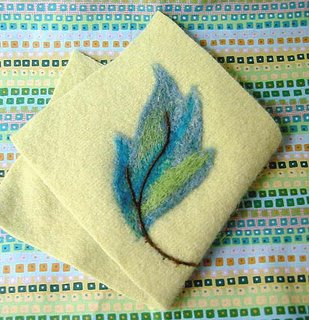 I've been doing a little experimenting with a new needle felting tool. I thought I'd whip up a little tutorial on a technique I came up with.
This is the Clover needle felting mat and tool. Needle felting is usually done into a block of foam. This mat is like a stiff brush with a hard plastic base. It's really nice to felt into because the work is easy to remove. Plus there are no bits of foam to get stuck in your work.
The tool has a spring loaded plastic guard around the needles that retracts into the handle as you punch into the work. It is a safety feature to prevent poking your fingers (although I still managed to inflict a bit of acupuncture). The handle also stops the needles from hitting the hard base. (NEVER use regular felting needles with this base as they are too long and will break)
First, lay some wool fiber across the base in one direction.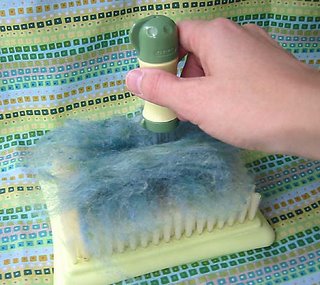 Next, layer more wool on top of the first, crossing directions. Start to felt by gently punching with the tool. Keep the tool vertical to prevent breaking the needles.
Now the fiber has matted together.
I decided to add some color variation by laying thin wisps of wool on top.
Punch into place. Carefully lift work from mat.
I cut a simple leaf patten out of paper. Now, this part may offend traditional needle felters…I am going to cut a shape out of this peice of felt. There is probably some rule out there that says you're not supposed to cut wool fibers…but please bear with me!
The cut leaf! I placed the shape onto my base fabric that I'd like to "applique" it to.
Start punching around the shape, securing the edges first. Continue until it is fully attached and has "become one" with the base fabric.
Yarn added for the veins and stem.
Back view: This shows how much fiber has come to the back of the base fabric.
The technique I used produced a firm, dense motif. Typically with needle felting, fiber is laid directly onto the base fabric and punched into place. Making the shape first, as seen above, allows a little more experimentation. I can make several motifs the same size and move them around until I am happy with the composition.
For another point of view, check out this tutorial that uses a more traditional technique. Please let me know if you have any other decorative needle felting tutorials you've found helpful! Find basic instructions for using the Clover tools at their website(link no longer active). I'd love to hear from anyone else that has tried them.