Never having had a sister, it sure was nice of my two brothers to marry some awesome sister-in-laws for me. One thing the three of us SIL's love (besides my brothers, of course) is shoes. We share similar tastes in footwear as well as the same shoe size. (They even own a pair of these, my faves!)
Kris, of gingersnap fame, is having a birthday this week. For her gift I made a set of shoe bags out of some yummy thrifted sheets. Kris and my brother travel frequently so having these will come in handy for her when it is time to pack for the next trip. Shoe bags keep your clothes clean and your shoes protected and organized!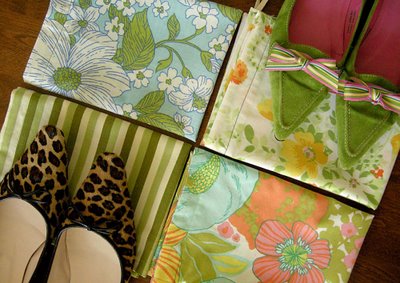 These are super easy to make and take less than a half yard of fabric each, plus a yard of twill tape for the drawcord.
1) With fabric folded, cut a rectangle about 13″ x 18″. The fold will be the bottom of the bag. About 2 1/2″ below the top edge, make a 1/4″ snip into the one side of the rectangle, through both front and back layers. (metal ruler shown for scale, not to be used with rotary cutter.)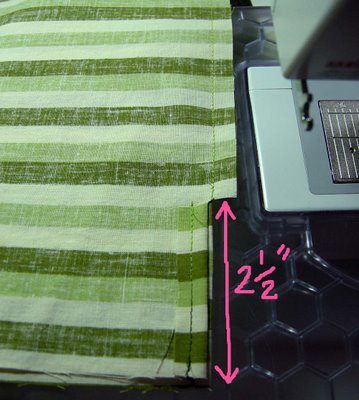 2) Fold the 2 1/2″ area above the snip towards the wrong side and hem. Repeat for the back. (Pay no attention to the lack of continuity with the fabric print!) With right sides together, sew the rest of this side seam and the remaining side seam using a 1/4″ seam allowance.
3) Finish seam allowances by serging or a zigzag stitch. Finish the top edge of the bag while you're at it.
4) Fold down the top edge of the bag to create the casing. Topstitch around the perimeter of the top of the bag from opening to opening.
5) Cut a yard of twill tape and thread it through the casing using a bodkin or safety pin. Knot ends of tape.
And there you have it! Pop your shoes in, cinch up the drawcord and you're ready to travel. Please let me know if I omitted anything or if you have questions about making the bags.
(If you're wondering about the shoes in the photos, they are mine, all mine, and are not part of my sister-in-law's gift! I love her but I gotta draw the line somewhere.)