TEN minutes to make this…no kidding. All you need is a pillowcase, about 2 yards of ribbon and your sewing machine.
Step 1: Lay out your pillowcase. Fold up the bottom edge 8″. Top stitch along the folded edge at 1/4″. (The stitched edge will become the top edge of the pockets.)
Step 2: Turn the pillowcase over and fold the bottom up another 8″. There will be 3 layers of pillowcase.
Step 3: Pin the layers together and top stitch around the sides and bottom edges. Mark a line down the middle of the front pocket, pin and stitch.
Step 4: Lay about 60″ of 1″ wide ribbon across the top edge of the apron centering it on the length of the ribbon. Pin in place. Topstitch ribbon at the top edge, bottom edge and across ribbon at sides of apron.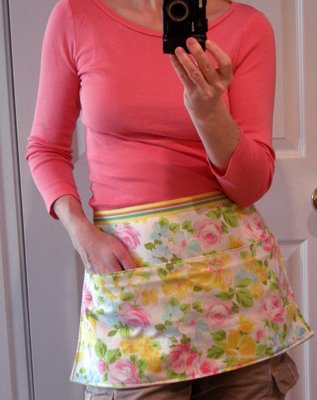 Step 5: Tie it on, use it, put stuff in the pockets, look cute…you know the drill. 🙂
Aren't pillowcases a blast? Coming up later this week I've got ANOTHER pillowcase project for you to be posted over on Craftzine. I'll give you a shout when it's up!
Meanwhile, I love this pillowcase tote I stumbled across over at polkanuts. There's also two pillowcase projects in Sewing Green, the Easy Breezy Skirt and the Girl's Easy Breezy Sundress. There's even a whole book on pillowcase projects called Craft Challenge: Dozens of Ways to Repurpose a Pillowcase. I haven't seen it in person, but I read a nice review of it by Diane of Craftypod.
This work by Betz White is licensed under a Creative Commons Attribution-Noncommercial-No Derivative Works 3.0 United States License.